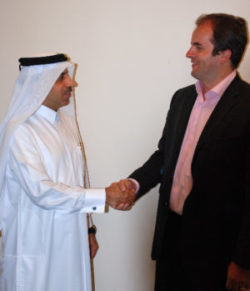 2009 – My very first contract in Qatar, opening the doors to Middle East
16 YEARS OF INTERNATIONAL BUSINESS DEVELOPMENT EXPERIENCE
I'm French but you won't tell, for my accent comes from the US where I studdied and worked for 5 years.
Passionate about International Business Development, I use my tripple acamedic background (Engineer, Economics, Marketing & Communication) to adopt new technologies and turn them into compelling business proposals.
I have worked in different industries (Gaming, Gambling, eCommerce, Mobile Payment, Mobile Advertising and Publishing, etc.) where I grew an extensive network (1202 as of January 2020) from 49 countries in 5 continents!
It is this extensive experience that I am putting at your disposal in my set of services.
And I'm based in Paris, France…
Sébastien Givry
To know more about me, my experience and background, best is that you visit my LinkedIn profile
MY NETWORK BY COUNTRY
(top 10)
France

United Kingdom

United Arab Emirates

Germany

United States of America

Israel

Romania

Spain

Netherlands

Italy
Result of 20 years of professional experience, mostly in Business Development, I do particularly cherish my LinkedIn profile, and I only accept people I know or with whom I have comon interests. Needless to say that my counter could be much higher otherwise. But quality primes over quantity!
And that's not counting all people I know that do not use LinkedIn…
NETWORK STATS TO TELL YOU A BIT WHO I AM
More than a Business Developer, I'm an explorer… Exploring so many countries (for work!) has been a great personnal achievement. This is where I also get the wealth of experience and learnings I will put at profit when talking the pilgrim stick to evangelize on your solution!
Starting from scratch, that is also my specialty. Picture above was taken when working at Gameloft, I was just starting to open Middle-East for them and that was my first contract. It later led me to sign contracts with almost all Mobile Network operators in the region: UAE, Saudi Arabia, Kuwait, Barhain, Qatar, Egypt, Jordan, Syria, Palestine…. In other words, I know how to open doors even outside my home land!
WELL ESTABLISHED NETWORK WITH MOBILE NETWORK OPERATORS
It also show you that I do have extensive experience and network in all major European markets, as well as in Middle-East (all countries pretty much)
EXPERIENCE IN 6 OF THE TOP 10 ECOMMERCE MARKETS WORLWIDE
That is #1 US, #3 UK, #5 Germany, #6 France,  #8 Italy and #9 Spain according to a report "Global eCommerce market Ranking 2019" by eshopworld given at the Word Retail Congress (download it here)
Needless to say that France is at the crossroads of Europe, very well placed to be your first entry point (especially after Brexit)! 
WHERE YOU CAN MEET ME
 Besides the events I will attend (see upcoming page on that), I am quite active at the French Mobile Marketing Association, in the Mobile Commerce Commission. I'm co-responsible of the Work Group "Mobile Payment". To see the agenda of upcoming commission meetings, it's here! (it's in Paris, France)
Let's discuss about your project